All rights reserved. Evergreen Center for Sustainable Development
Tel:010-82272588 E-mail:evergreen_org@126.com
Address:No.1, Xinfeng Street of Xicheng District, Beijing
Powered by Hichina
by Cosi Watkins
Over the summer I travelled to Beijing to volunteer at Evergreen. The experience I had when I was there was not only challenging, but also very rewarding and memorable, and I am grateful to have had this opportunity. Apart from teaching English to the children while I was there, I also helped and participated in numerous activities with them each day.
Prior to coming to Evergreen, I had never had the opportunity to teach before, let alone teach English as a second language. During the two weeks, I tried to teach the children a variety of topics, ranging from food to hobbies to jobs, and attempted to encourage them to speak in longer and more complex sentences. Through this experience I was able to learn valuable lessons and appreciate the difficulty of trying to engage with and include all the students at all times, especially as the level of English in the class varied significantly. I do hope that the children benefitted from this experience and will continue to work hard study English throughout their school lives.
Besides teaching, I participated in many different activities being held for both the children and the adults. One of the first activities I was taken to was a 'flea market' that was put on for the children to buy and sell their toys, books, and some of their homemade crafts. On another day, I was taken to a diablo museum with the children. I could tell that on this day, many of the children enjoyed themselves and were keen to learn more tricks from their guide. I was especially impressed at this toy, as we do not have it in England and it was obvious to see the level of skill and patience that was needed in order to be successful when playing with the diablo. Another activity organised for the children where I helped out, was to educate them about water birds. The children were taught about their habitat and if they felt that these birds could survive in Beijing considering Beijing's water supply and environmental issues. At the end of this session, the children were asked what they thought they could do to protect the environment and also the water birds, thus raising awareness of the environment and the problems we face among the children.
In addition to participating in activities held for the children, I also went to some activities that had been organised for the adults. On one of my days with Evergreen, I was taken to a lecture about domestic violence among migrant workers and how it may be avoided. The talk was held by a psychologist and seemed to be very well received by all who attended, especially as some people had the chance to stand up at the front and act out some short skits making the talk more interactive and engaging. Another activity I went to was a yoga evening in the community centre that is usually held weekly for the adults.
Overall my experience at Evergreen was thoroughly enjoyable and I will cherish it for years to come. I would like to thank all those at Evergreen for being so kind and welcoming and for making my trip so memorable. I hope that if ever I am in Beijing, I will be able to return and visit Evergreen.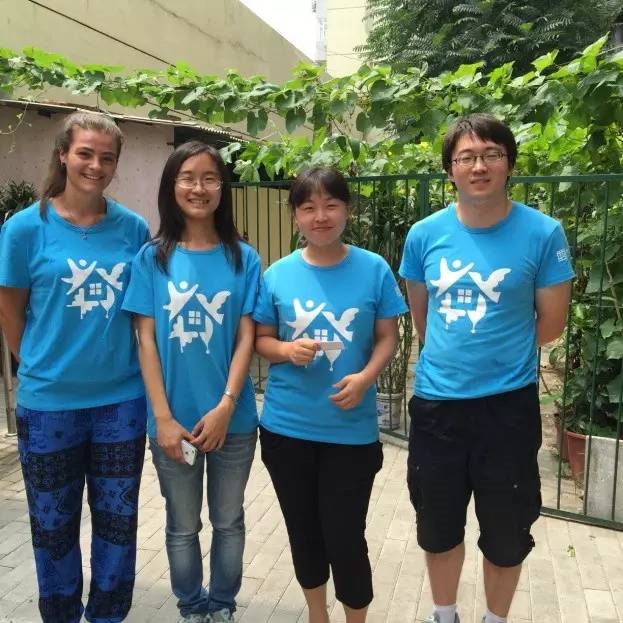 My Experience as a Volunteer