All rights reserved. Evergreen Center for Sustainable Development
Tel:010-82272588 E-mail:evergreen_org@126.com
Address:No.1, Xinfeng Street of Xicheng District, Beijing
Powered by Hichina
New Citizen Life Center for Migrant Children Set Up in Beijing
The inauguration ceremony of a new Citizen life center for migrant children in Beijing on September 4, 2014. [Women of China/Zhang Jiamin]
The inauguration ceremony of a new citizen life center for migrant children was held in Beijing on September 4, 2014.
Migrant children are underprivileged rural children, who have followed their migrant worker parents to live and study in cities after leaving their homes in the countryside.
About 28.8 million migrant children live and study with their parents in cities, according to 2013 data of the All-China Women's Federation (ACWF). Yet nearly 10 percent of them have no school to go to in cities, as shown by relevant statistics from the 5th National Census.
The Xinjiekou Sub-district of Xicheng District, Beijing, has 30,000 migrant people among its population of 100,000. For various reasons, 70 children of migrants are worried others look down upon them.
In an effort to improve the children's educational and living conditions, the Evergreen Center for Sustainable Development has established a new citizen life center for them in Daguan Community of Xinjiekou Sub-district.
The new center, which started a trial run on July 4, consists of a reading room and various activity rooms to provide free remedial lessons, interest-oriented classes and care for migrant children ranging in age from under a year to 12.
Every week, the center organizes teachers and volunteers to communicate with members of migrant families to enable migrant children and parents better integrate into urban life and enhance their parent-child relationships.
The center has also opened classes to teach behavioural norms and improve the population quality for migrant parents.
Founded in 2012, the Evergreen Center is a non-governmental organization (NGO) to promote sustainable development, especially focusing on Chinese children's physical and mental development.
The Evergreen Center is also active in international communities. It is a core partner of a European Commission-funded program Environmentally Friendly which is an international exchange project among China, Lithuania, Germany, and Vietnam. It is also a member of the Southern Asia Youth Climate Change Alliance.
The Evergreen Center has been honoured with an Outstanding Achievement Award ofor National Children's Ecological and Moral Education by the China National Children's Center of the ACWF for two consecutive years.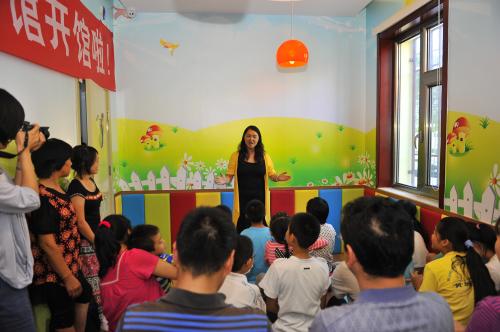 President of the Evergreen Center for Sustainable Development Lin Yue talks about the new citizen life center for migrant children. [Women of China/Zhang Jiamin]
Migrant children learn taekwondo at the new citizen life center in Beijing on September 4, 2014. [Women of China/Zhang Jiamin]
Migrant children receive prizes and gifts for their taekwondo performances at the new citizen life center in Beijing on September 4, 2014. [Women of China/Zhang Jiamin]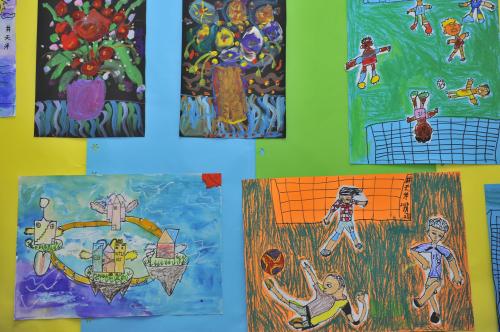 Paintings drawn by migrant children [Women of China/Zhang Jiamin]
New Citizen Life Center for Migrant Children Set Up in Beijing
http://www.womenofchina.cn/html/womenofchina/report/175726-1.htm New Citizen Life Center for Migran